Laura Dugan featured in PivotToday for Delaware County Leadership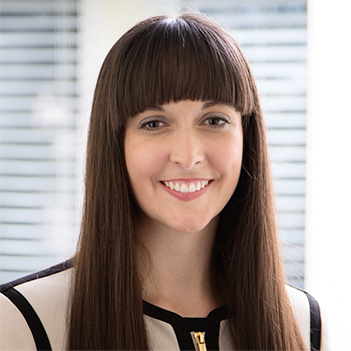 Laura Dugan, an associate with Media-based Raffaele Puppio and who's practice focuses on various stages of criminal and personal injury litigation, talks with PIVOT Today about growing up in Springfield, attending Widener University School of Law and her favorite piece of advice.
What is your full name and who are you named after?
My full name is Laura Ann Dugan. I wasn't named after anyone, my parents just liked the name. I spelled my middle name, Ann, with an "e" at the end of it until I had to get my birth certificate to get married in 2016 and noticed that it did not include an "e."
Where were you born and where did you grow up?
I was born in Bryn Mawr and lived in Drexel Hill until I was three when my family moved to Springfield after my brother was born. I still live in Springfield with my husband and two Labrador Retrievers, Axel and Willow.
If you live and/or work in Delaware County, what do you like most about it?
I live and work in Delaware County. I like living in Delaware County because there are plenty of different things to do for fun. Additionally, there is easy access to Philadelphia, the mountains, and the beach. I like working in Delaware County because I enjoy working in the same community where I live.
What did your parents do?
My dad is an accountant. My mom stayed at home to raise myself and my three siblings. She now runs my grade school's lunch program.
Where was your first job?
My first job was at Villanova University as a secretary in their Human Resources Department. I started working there the summer before I started college at Villanova.
Where did you go to college? Why there?
I attended Villanova University where I earned a Bachelor's degree in psychology with a minor in criminal justice. I chose Villanova because it was a great school academically but also because it was close to home. I really enjoyed attending the Villanova basketball games. In fact, the only time I missed class was one year when I went to the Big East Tournament at Madison Square Garden.
Where did you go to law school? Why there?
I attended Delaware Law School (formerly Widener University School of Law). I chose Delaware Law School because of its respected reputation in Delaware County as well as its convenient location.
Why did you choose to go into your particular area of law?
At Raffaele Puppio, I focus primarily on criminal and personal injury litigation. I enjoy practicing criminal law because it allows me to guide individuals through a difficult time of their life. It does not hurt that criminal cases are often a bit more interesting than contract cases.
Regarding my personal injury practice, I actually never thought I would practice civil law. Throughout law school, I focused on criminal law electives, interned in the criminal division of the United States Attorney's Office in Philadelphia, interned with a criminal trial judge in the Delaware County Court of Common Pleas, and interned at the Delaware County District Attorney's Office. However, I am fortunate to be in a position where I was able to broaden my practice areas to include personal injury litigation.
What is your favorite Delaware County restaurant?
My favorite Delaware County restaurant is Trattoria Giuseppe in Newtown Square. Their food, from the bread to the main course, is high-quality yet reasonably priced. Additionally, the portions are huge which (usually) allows me to get two meals out of each dish. The service is fast and friendly.
Where is your favorite weekend-getaway destination?
My favorite weekend-getaway destination is the Poconos. I enjoy going up the Poconos because there is always something to do regardless of the season. In the summer, I enjoy hiking and going to the lake. In the winter, I enjoy playing with my dogs in the snow and then warming up inside with a fire.
If you could change one thing about the Delaware Valley, what would it be?
If I could change one thing about the Delaware Valley, I would want it to be more dog friendly and have more off-leash dog areas. My husband and I bring our dogs with us wherever we can.
What is the best piece of advice you have ever received?
The best piece of advice that I have ever received was to wear sunscreen. Do yourself a favor and listen to "Everybody's Free to Wear Sunscreen" by Baz Luhrmann.