Kathleen A. Piperno, Esq. featured in PivotToday for Delaware County Leadership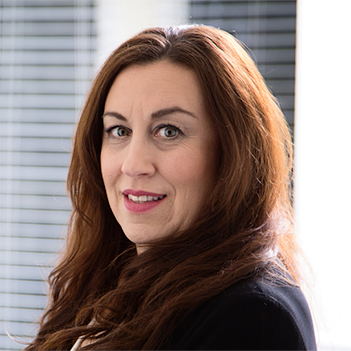 Kathleen A. Piperno, Esq., a Partner with Raffaele Puppio, shares memories of growing up in Philadelphia, her first job in retail merchandising, and why she choose Widener for law school.
Your full name? Who are you named after?
Kathleen A. Piperno, Esq. I am named after my mother's sister.
Where were you born and where did you grow up?
I was born and raised in Philadelphia. I have lived half of my life in Philadelphia and half of my life in Delaware County.
What are some of your fondest memories of where you grew up?
I grew up in a row home in a very close-knit, Italian-American neighborhood where neighbors became family. Many of my neighbors, as well as my grandparents, were born in Italy.
If you live and/or work in Delaware County, what do you like most about it?
I enjoy working in Media, PA. I left a practice in Philadelphia for a better quality of life in Delaware County. I have been here for the majority of my legal career, 18 years. I am proud of my achievements and my success in the family law arena.
What did your parents do?
Both of my parents were union-members and they each worked shift-work. My father was a factory worker and my mother was a telephone operator for AT&T and then Verizon. When I was a child, they taught me that boys and girls were equal.
Where was your first job?
My first job was in retail merchandising after earning an Associate's Degree.
Where did you go to college? Why there?
I attended Golden Gate University in San Francisco, CA. and earned a Bachelor's degree in business and humanities. My career in retail merchandising took me to San Francisco, where I later became a legal secretary.
Where did you go to law school? Why there?
I left California in order to attend law school here, as a 4-year evening student. I met my husband during my third year of law school. I graduated from Widener University School of Law (now known as Widener University: Delaware Law School) in 1996.
Why did you choose to go into your particular area of law?
I did not choose family law – it chose me. I was a sole practitioner and an Assistant Public Defender when I met Michael Raffaele as an opponent in a divorce case. Soon thereafter, I joined Raffaele Puppio and became the first female partner in 2006. We grew the family law practice to such an extent that my only focus had to be on family law which includes divorce, child custody, alimony and spousal support, domestic partnerships, grandparents' rights, protection from abuse, prenuptial and postnuptial agreements, settlement agreements in divorce and the separation of spouses and separation agreements.
Are you involved in the community? If so, in what ways?
Since my return to Pennsylvania, my focus has been on the fight against Domestic Violence. I served as a Board Member for the Domestic Abuse Project ("DAP"), from 2010 to 2016. I have organized and hosted charity events for DAP, The Legal Aid Society, The Linda Creed Breast Cancer Foundation and Wounded Warriors. This year, I will raise funds for Women Against Rape ("WAR"). I also participate in Adopt-A-Family for DAP clients and for WAR clients.
I am a member of the Delaware County Bar Association; I served as the Chairperson of the Family Law Section in 2012; and have been the Chairperson of Social Committee for the Family Law Section since 2007.
I was appointed as a Special Master in Divorce for the Delaware County Court of Common Pleas in 2010 and continue to make recommendations to the court. I have been a Court Appointed Child Advocate since 2012. I have also been a Court Appointed Attorney for parents involved in dependency actions through Children and Youth Services of Delaware County.
I have been honored by my peers with awards for outstanding service to the Delaware County Bar including receiving the Delaware County Twenty-Ninth Annual Victim's Rights Week Award in 2010, Law Day Special Recognition Award in 2011, and Family Law Chairperson Recognition Award in 2012.
Is teaching and mentoring important to you?
Absolutely. I was an Adjunct Professor at The Legal Education Institute for Paralegal Studies at Widener University School of Law where I taught Family Law, Adoption Law and Violence and the Law courses. As a family law attorney, it is important to educate young attorneys and future lawyers about the intricacies of our profession as well as the skills required for success. .Our clients require guidance and expertise in order to navigate the emotional pitfalls that they all encounter.
Who was your most important mentor?
I owe everything to my first mentors, James Farragher Campbell, Esq., and Linda Lee DeMetrick, Esq., husband and wife, for whom I worked in San Francisco. They believed in me enough to pay for my LSAT exam and then guided me into the field of law.
I am also grateful to Michael Raffaele, Esq. and Michael Puppio, Esq., who mentored me when I arrived in Delaware County as a sole practitioner. I became the first female partner after four years with The Firm.
What is your favorite Delaware County restaurant?
AZIE is my favorite restaurant in Delaware County. It's a relaxing place to meet colleagues during the week or to enjoy dinner with the family over the weekend.
Where is your favorite weekend-getaway destination?
My family and I have spent many years at the Jersey Shore. Ocean City, New Jersey, is a very special place, where my parents hosted family gatherings; where I studied for the bar exam; where my husband and I dated; and where my son enjoyed summers with The Piperno Family.
If you could change one thing about the Delaware Valley, what would it be?
Equality for women. Times up!!
What is the best piece of advice you have ever received?
The best advice that I ever received was from James and Linda, who told me that I was wasting my time as a legal secretary because I belonged in law school.