Gabrielle C. Goham featured in PivotToday for Delaware County Leadership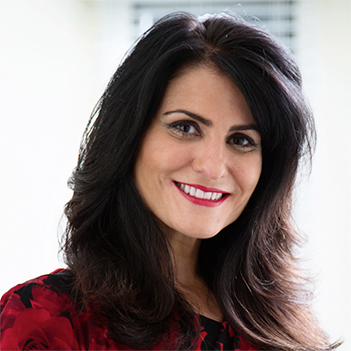 Gabrielle Goham, a partner with Media-based Raffaele Puppio and who's practice focuses on school districts, charter schools, private schools and intermediate units in special education matters, talks with PIVOT Today about growing up in Havertown, working at the Weinberg's in Havertown, attending St. Joseph's University and how the best piece of advice she ever received was to not miss the opportunity to be a mother.
What is your full name and who are you named after?
Gabrielle Christine Goham is my full name. Most people call me Gaby. I am named after Gabrielle "Coco" Chanel.
Where were you born and where did you grow up?
I was born and raised in Havertown, Pennsylvania. I live in West Chester, Pennsylvania.
What are some of your fondest memories of where you grew up?
Some of my fondest memories of growing up are long summers reading books while lying on a branch in the apple tree in my backyard and vacationing with my family in Stone Harbor, NJ.
What do you like most about Delaware County?
One of the things I love about Delaware County is that we have everything we need right here from great schools and restaurants to shopping, fitness facilities, and more. There is no need to venture far.
What did your parents do?
My parents were both university professors.
Where was your first job?
My first job was selling men's clothes at Weinberg's, a department store in Havertown.
Where did you go to college? Why there?
I attended St. Joseph's University where I earned a Bachelor's degree, however, I also have a Master's Degree in Education from University of Pennsylvania.
One of the reasons I focus on special education law is my passion for making the world a better place, starting with our youth.
Where did you go to law school? Why there?
I went to Villanova University School of Law. I decided on Villanova because it is the only law school in Delaware County, where I intended to practice.
Why did you choose to go into your particular area of law?
When I graduated law school, I didn't know there was such a thing as a school lawyer. Toward the end of my federal clerkship, I answered a blind ad for a school lawyer with a law firm in Montgomery County, where I represented school districts for the first five years after my clerkship.
As a former teacher in Delaware County public schools, I believed that by focusing on special education law, I could really make a difference. I've been representing school districts, charter schools, private schools, intermediate units in special education matters during much of my legal career – although I did cut my teeth as an intern at the Delaware County's District Attorney's Office and by clerking for Judge Robert F. Kelly, Sr., United States District Judge, Judge Frank T. Hazel of the Delaware County Court of Common Pleas and Judge Stephen P. McEwen, President Judge Emeritus of the Superior Court of Pennsylvania. I also represented parents on the federal court level for five years. I just love what I do.
Are you involved in the community? If so, in what ways?
I have served on the board of my children's preschool. I am a member of the Concord Township Historical Society, as I own a historical property there. I regularly serve as homeroom mom for my three young boys. We are also a big basketball family and are members of the community youth league. As a working mother, I focus on staying actively involved.
Is teaching and mentoring important to you?
As a former teacher who worked for schools in Delaware County, teaching is integral to my practice. I do a lot of professional development for clients and non-clients alike, in all areas of special education law.
Who was your most important mentor?
I have been blessed with so many teachers in my life. I am grateful to the mothers I have known, including my own, who showed me how it's done. I have been privileged to learn how to be a good attorney from the many fine lawyers I have worked with and even opposed. I have had many friendships which have taught me to accept and love myself and others. But my children are perhaps my greatest mentors, because they have taught me about true strength, patience, other-centeredness and unconditional love.
What is your favorite Delaware County restaurant?
Bertucci's is my favorite restaurant in Delaware County. The reason is that all three of my kids will agree to eat there!
Where is your favorite weekend-getaway destination?
What's a weekend getaway?
If you could change one thing about the Delaware Valley, what would it be?
If I could change one thing about the Delaware Valley, it would be the traffic. I do a lot of driving for work, and I am always amazed at how long it takes to travel ten miles.
What is the best piece of advice you have ever received?
The best piece of advice I have ever received is to not miss the opportunity to be a mother. While I have devoted my practice of law to children, there is no greater privilege or joy in my life than being a mother to my own three sons. They are my heartbeat.